I was going to write a deep post about how sometimes people get overwhelmed with the problems in the world and don't do the little things because they can't do everything. But, I am on an unfamiliar computer and it took me forever to upload these pictures, so I'll just get to introducing the cuteness that started these thoughts.
This is Pi. I found this little kitten outside on my mom's picnic table a couple days ago. It is part of the posse of feral cats in the neighborhood, and we think it got abandoned because it was sick. My mom told me to get it out of the house immediately, but it had taken me 20 minutes to catch this wild cat and I wasn't going to just put it back out in the cold. (It was very cold.) I took slow motion hunter like steps towards it until I was close and enough to reach out and grab it. I think I only caught it because it was sick. I brought it inside, and it was flattened out to the floor and scared. As you can see, it warmed up to me pretty soon. Pi was falling asleep in this picture.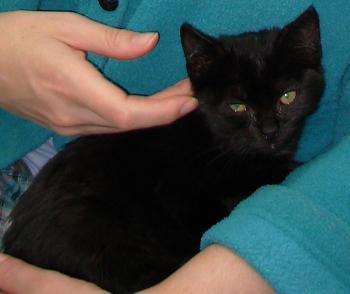 I think I was there for it's first human induced purr. I pet it's back a couple times and it was like it's motor started for the first time. It looked surprised. It started purring this loud purr that didn't quit the whole time we had it. Eventually, after I started crying, my mom came around and let me keep it in the house and helped me find some people to help it. (I am a stranger in a strange land on Christmas vacation.) I don't think this kitten had ever eaten food besides nursing so it took it awhile to eat the cat food and cream of wheat we gave it.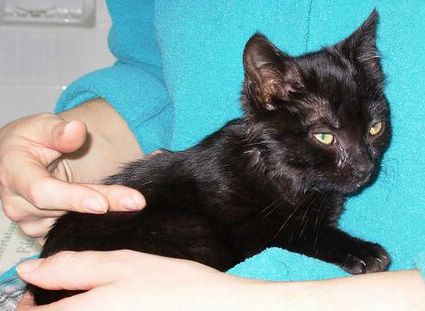 It was very happy to be held, and very sad if I ever left the bathroom where we kept it, (so it wouldn't pass along whatever sickness it had to our cats). Sandy, the cat healer and rescuer, took it and assured me she would heal it up and then find Pi a home. Most of the animals we've had have been rescued and were/are part of our family. I hope Pi has a nice life. Whoever gets this playful and loving kitten will be lucky. Oh yeah, and just because you cannot save all the stray cats in the world doesn't mean you shouldn't try and save one.